3371 Washington Street, JP: Affordable Senior Housing
Thursday, January 14, 2021
3371 Washington Street in Jamaica Plain has been approved by the BPDA! This was an important step in the public approvals process for the project. New Atlantic and JPNDC are one step closer to bringing this important affordable, senior housing project to life.
Preserving Humphreys Street Studios
Wednesday, December 16, 2020
New Atlantic is featured in a piece by WBUR in our attempt to find a path to preserve the
Humphreys Street Studios
in Dorchester, a collaborative effort that will involve the artist tenants, city officials and co-developer
PlaceTailor
.
New Atlantic Development and JPNDC File Plans with the BPDA
Monday, September 21, 2020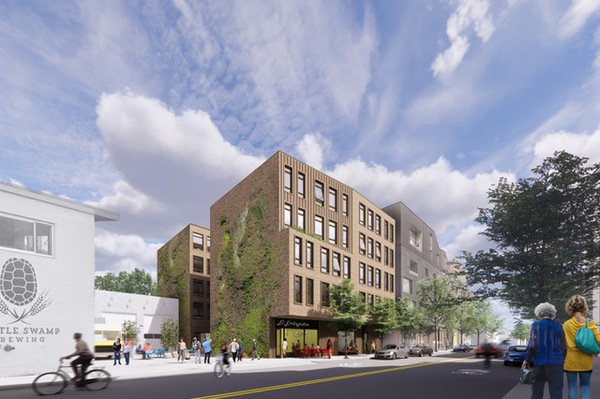 The 3371 Washington project, a joint venture with Jamaica Plain Neighborhood Development Corporation (
JPNDC
), involves the new construction of a five-story, 39-unit building on Washington Street in Jamaica Plain. The building will be home to 38 units set aside for low- and extremely-low income senior households. An additional unit will house a live-in manager - part of the robust supportive services that will be available to the residents. This Passive House building is being designed by
Utile
. The development team will continue to work with neighbors and community stakeholders on the design and programming of the project as we move through the public approvals and funding processes.
2147 Washington: Public Meeting 11/6
Monday, October 28, 2019
A BPDA Public Meeting has been scheduled for our 2147 Washington Street project. Come lend your support to the project.
There will be light refreshments with catering by Haley House
Wednesday, November 6th, 2019 from 6:30 - 8:00pm
Boston Water & Sewer Commission
2nd Floor Training Room
980 Harrison Avenue
Roxbury, MA 02119
New Atlantic Development and DREAM Collaborative team win key approval
Monday, June 10, 2019
The RSMPOC has voted to support our joint proposal with DREAM Collaborative for the 2147 Washington Street parcel in Dudley Square. 2147 Washington will provide much-needed housing in Roxbury and will create economic opportunity for residents and the surrounding community by engaging with local businesses to foster creative entrepreneurship. The project will help re-establish Dudley Square as a vibrant cultural district and will further the community's vision for development of the parcels.

The 6-story building will create an active live/work/play environment that encourages community engagement with daytime and evening activity. The ground floor of the building will include 7 individual work-only studio spaces as well as 1,224 sf of shared workspace, which fosters accessibility and equitable opportunity to people of all socioeconomic backgrounds.

Haley House Bakery Café operations will be relocated to a higher-profile ground floor space on Washington Street, allowing them to significantly expand their operations.

A 1,413 sf flexible retail space on the ground floor will encourage programming and activities that allow residents to stay local to the Dudley Square area and will bring nighttime activity to the area and help activate the street.The building will include a total of 74 residential units with a wide range of affordability. 62 rental apartments will be available to households with incomes ranging from below 30% AMI to 80% AMI. 12 for-sale condos will be available at 80% AMI, 100% AMI, and market rate.
2147 Washington includes a total of 47 off-street parking spaces. Spaces will be made available to residential and commercial tenants as well as provide short term parking for retail and Haley House customers.
Nehemiah Homes and Family Life Center
Wednesday, March 6, 2019
The team at New Atlantic is proud and excited to announce a new partnership with the Pleasant Hill Missionary Baptist Church in Dorchester to develop affordable rental homes on land adjacent to the Church on Humboldt Avenue and Waumbeck Streets. The project will involve the demolition of the dilapidated building located at 157 Humboldt Avenue and the new construction of approximately 20 homes to be set aside for individuals and families earning below 60% and 30% of area median income. The project will also include a Family Life Center, which will provide supportive services to the residents of the property as well as the community. The goals for this project include the design and construction of an attractive and sustainable building that adds to the stability and character of the neighborhood; providing resources and support for the ongoing and future success of the Pleasant Hill Missionary Baptist Church and its congregants; maximizing participation by local minority and women-owned businesses; and the inclusion of services to support the needs of the residents and community.
New Atlantic Partners with Dream Development
Tuesday, November 13, 2018
New Atlantic Development and DREAM Development submitted a joint proposal to redevelop 2147 Washington Street in Dudley Square, Roxbury. Our proposal calls for a mixed-use, mixed income development including 74 total residential units of varying affordability to be marketed to artists and creative professionals, 7 artist work studios, a shared workspace, a new 80-seat restaurant/cafe space for Haley House, a public courtyard gathering space, community retail and more. 70 of the 74 units will be affordable for households earning between 0% and 100% of Area Median Income, with the majority being below 60%. The property would offer both rental and homeownership opportunities. Between the live/work spaces, the work studios and shared workspace, the project aims to support not only affordable homeowners and renters, but sole proprietors and small businesses as well. The architect for the project is DREAM Collaborative, an affiliate of DREAM Development. The proposal was submitted in response to a Request for Proposals issued by the City of Boston's Department of Neighborhood Development.
Supportive Housing in Newton
Thursday, November 1, 2018
Construction has been completed at 1090 Walnut St in Newton! Continuing our partnership with Specialized Housing, Inc., this 4,000 square foot, restored single-family home with a 2,000 square foot addition will provide a place for 10 young adults with developmental, intellectual, and related disabilities to call home. Where living together they can achieve greater independence and be supported by caring staff. The 1090 Walnut St location provides residents with easy access to public transportation, services and amenities.
Bill Madsen Hardy Honored by New Communities Services
Thursday, October 11, 2018
Bill Madsen Hardy was honored for his and New Atlantic's longstanding partnership with the Cambridge-based nonprofit at its 45th Anniversary Gala. New Communties Services' mission is to help maintain adults in their communities by providing high-quality adult day health services and dignified supportive housing to those whose special needs place them at high risk of living in an institutional setting. New Atlantic and New Communties have partnered on several affordable, service-enriched housing projects, including 1023 Hyde Park Ave, North Shore Homes, 25 Ruggles Assisted Living and ElderHouse at Uphams Corner.
Supportive Housing in South Portland
Friday, June 1, 2018
Construction has been completed at 14 E Street in South Portland! This restored single-family home with a 4,000 square foot addition will provide a place for 10
adults with developmental, intellectual, and related disabilities to call home, living together where they can achieve greater independence and be supported by caring staff. The project was developed in partnership with Specialized Housing, Inc., who will staff the home and provide services to the residents.
New Atlantic Submits Proposal for Zero Carbon Footprint Housing in Roxbury
Wednesday, February 14, 2018
In response to an RFP issued by the Department of Neighborhood Development, New Atlantic is proposing a new 18-unit condominium project at 273-287 Highland Street in Roxbury. Working with Utile, the project architect, the proposed project will exceed all energy codes and will actually produce more energy on an annual basis than it consumes.
Named Highland Yard, the project is designed to be durable, energy-efficient, and resource-conserving. The building addresses the specific needs of Boston's climate: it keeps heat in and cold temperatures out, lets the sunlight in during the winter, and promotes cross-ventilation and good shading during the summer. However, to surpass the target of net-zero energy, a climate-responsive design must take additional measures to optimize envelope performance, building systems efficiency, and renewable energy production.
For this reason, the project has adopted the guidelines of the PHIUS+ 2015 Passive House standard. By designing to this standard, heating and cooling demands will be kept so low that space conditioning systems can be kept simple and small, and overall operational energy use will be minimal. As a result, the building will be able to produce more energy than it consumes after the integration of a renewable solar photovoltaic system.
Girard wins 2017 BSA Honor Award for Design Excellence
Monday, July 10, 2017
The Girard team is excited to win a 2017 Boston Society of Architects (BSA) Honor Award for Design Excellence! The program recognizes design excellence – informed by aesthetic, functional, contextual, sustainability, social, or other characteristics – for any project completed by Massachusetts architects, or any project built in Massachusetts designed by architects located anywhere in the world. This year's jury chose 19 projects for the Honor Award from 119 submissions.
Utile and New Atlantic Development's mixed-use apartment complex, named after American textile designer Alexander Girard, opened its door to tenants in October 2016. The 160-unit building totals approximately 240,000 square feet with 3,600 square feet of ground-floor retail.